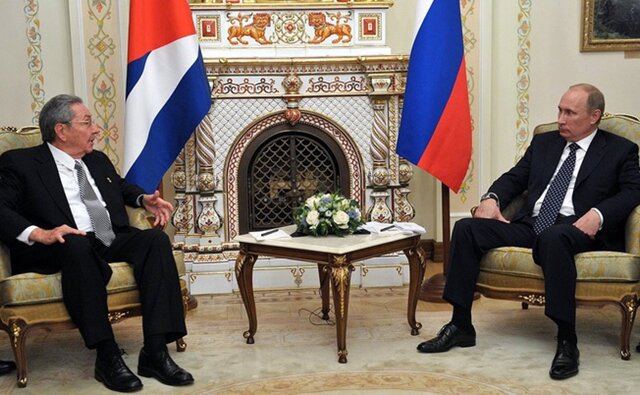 Власти Кубы обратились к руководству РФ с просьбой наладить поставки нефти на остров на фоне возникших трудностей с поставками из Венесуэлы.

Председатель Государственного совета и совета министров Кубы Рауль Кастро обратился к президенту РФ Владимиру Путину с просьбой рассмотреть возможность налаживания стабильных поставок нефти и нефтепродуктов из России на Кубу.

Об этом сообщило агентство "Интерфакс" со ссылкой на неназванный источник, осведомленный с обращением Рауля Кастро к Владимиру Путину.

По данным источника агентства, в тексте обращения, в частности, сообщается о том, что проблемы возникли из-за сложной экономической ситуации в Венесуэле, по причине которой властям страны пришлось пойти на увеличение экспорта нефти на международный рынок.

Трудности с поставками нефти из Венесуэлы в свою очередь вынудили власти Кубы принять ограничительные меры в потреблении энергоносителей, что негативно сказывается на среднесрочных и долгосрочных планах развития страны.
Подробнее: http://www.vestifinance.ru/articles/74647
Cuban authorities appealed to the leadership of the Russian Federation with a request to start supplying oil to the island on the background of difficulties with the supply from Venezuela.

Chairman of the State Council and the Council of Ministers of Cuba Raul Castro appealed to President Vladimir Putin with a request to consider the establishment of a stable supply of oil and oil products from Russia to Cuba.

This was reported "Interfax" citing an unnamed source knowledgeable with the handling of Raul Castro to Vladimir Putin.

According to the source Agency, the text of the appeal, in particular, reported that problems arose due to the difficult economic situation in Venezuela, which is why the authorities had to go on increasing oil export to the international market.

Difficulties with the supply of oil from Venezuela in turn has forced the Cuban government to take restrictive measures in the energy sector, which adversely affects the medium-and long-term development plans of the country.