Москва. 24 февраля. INTERFAX.RU — Планета Юпитер в ночь на 8 марта окажется на одной линии с Землей и Солнцем и станет видна невооруженным глазом, сообщил «Интерфаксу» в среду старший научный сотрудник Пулковской обсерватории Сергей Смирнов.
© Reuters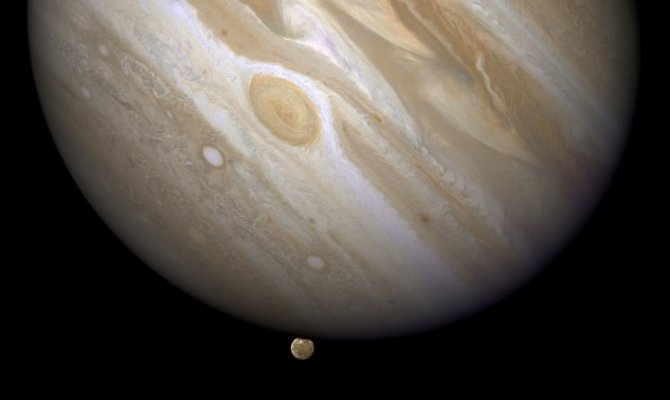 «Всю зиму Юпитер господствовал на ночном небе. 8 марта наступит кульминация этого события. Солнце, Земля и Юпитер окажутся примерно на одной линии. Оборот вокруг солнца у него составляет 12 лет, и каждые 13 месяцев мы можем наблюдать такую "оппозицию". Очень символично, что самая большая планета Солнечной системы носит мужское имя и в Международный женский день она будет обращена к Земле», — сказал Смирнов.

Он отметил, что наиболее четко Юпитер можно будет наблюдать 8 марта, но и за несколько дней до этой даты, а также некоторое время после газовый гигант будет хорошо виден на небосклоне.

«Его яркость будет очень хорошей — минус 2,5 звездной величины, в то время как самая яркая звезда — Сириус имеет в 2,5 раза меньшую звездную величину. В отличие от звезд Юпитер только отражает солнечный свет, но он находится с нами в одной планетной системе и в момент "оппозиции" до него будет немного больше 600 млн км, а не триллионы км», — сказал астроном.

Любители астрономии также смогут увидеть и спутники Юпитера. «Сейчас нам известны более 60 спутников Юпитера, в основном, малого размера. А четыре его спутника очень большие: два из них сравнимы размером с Меркурием, а еще два — как Луна. Вот их можно будет увидеть в хороший бинокль», — отметил ученый.
https://news.mail.ru/society/24939894/?frommail=10
Moscow. 24 Feb. INTERFAX.RU — the planet Jupiter in the night on March 8 will appear on the same line with the Earth and the Sun and will be visible to the naked eye, said "Interfax" on Wednesday a senior researcher Pulkovo Observatory Sergei Smirnov.
© Reuters
"All winter Jupiter dominated the night sky. On March 8 there will come the culmination of this event. The sun, Earth and Jupiter will be approximately on the same line. Revolution around the sun he is 12 years old, and every 13 months we can see this "opposition". It is very symbolic that the largest planet in the Solar system is man's name, and on international women's day it will be turned to the Earth," — said Smirnov.
He noted that most clearly Jupiter can be seen on March 8, but a few days before this date, and some time after the gas giant will be visible in the sky.
"Its brightness is very good — minus 2.5 magnitude, while the brightest star — Sirius is 2.5 times smaller magnitude. Unlike stars, Jupiter only reflects sunlight, but he is with us in one planetary system at the time of the "opposition" to it will be a little more than 600 million km, not a trillion miles," said the astronomer.
Amateur astronomers will also be able to see the moons of Jupiter. "Now we more than 60 known moons of Jupiter, mostly of small size. And four of its satellites are very large: two of them are comparable in size with mercury, and two — like the Moon. Here you can see them in a good pair of binoculars," — said the scientist.